Fully Restored 1984 M1008 Military Surplus CUCV Chevrolet 1-1/4 ton Diesel 4X4 Pick-Up / Cargo Truck*
ONLY 55,680 ORIGINAL MILES ON THIS BEAST!!
We spared NO expense on this truck - inside AND out!!
MORE THAN 250 HIGH RESOLUTION PHOTOS BELOW
*NOTE (to comply with eBay, DoD and International Traffic in Arm Regulations (ITAR) Part 121): No weapons, ammunition or un-demilitarized hardware included - just the truck itself.
Complete body-off-the-frame restoration done on this truck - more than 1,000 man hours of work to make it perfect!
New everything - from the Upholstery, Bed Liner and Undercoating to the Injection/Lift Pump, Injectors, Brake Lines, Steering Box, Gaskets, Hoses, Fluids and Both Alternators!!
Authentic Military Surplus
Clear Arizona State Title (in our hands)!
You can register this truck immediately for on-street use in any State in the Country!!
Meticulously maintained and in EXCELLENT original condition.
VERY Rugged AND Reliable!!
Heavy Duty 6.2L Detroit Diesel J-Series V-8 Engine
Great Workhorse AND/OR Recreation Vehicle!
New Military Olive Drab Paint!!
Brand New Interior (Seat Upholstery, Dash, Door Panels, Etc.)!! Plus, completely Stripped/Blasted then Painted from top to bottom -AND Bed Lined THIS MONTH!
250+ PHOTO'S BELOW
Just Serviced by us on 4/3/12 (fluids, filters, hoses, belts, etc.)
Runs Great, Reliable, Has all the Extras, No Problem being an Everyday Driver;
· Powered by GM's Legendary 6.2L J-series Detroit Diesel V8 Engine (non-emissions diesel), 279 ci, Compression Ratio: 21:1
·

Rated at 155 hp (116 kW) @ 3,600 rpm and 240 lb-ft (325 N-m) @ 2,000 rpm
· Wheel Base: 131.5 Inches

· Curb Weight; 5,900 lbs, GVW; 8,800 lbs

· Fuel Capacity; 20 Gallons

· Fording Depth: 20 Inches, Approach Angle: 42 Degrees

·

Equipped with the THM-400 3-Speed Automatic Transmission
· Heavy Duty Version of the NP-208 Transfer Case (unsyncronized)
·
Steel Shell on the Transfer Case and Full Skid Plates on the Transfer Case and Fuel Tank
· 10-bolt Dana 60 Front Axle (open)
· 10.5" Corporate 14-bolt Rear Axle with a Detroit Locker and 4.56:1 Gears
· 24-Volt Electrical System with Dual 100 Amp Alternators
· Dual Military 12-Volt Batteries
· NATO Slave Receptacle for Jump Starting any NATO Vehicle
· Two Rifle Mounts (Drivers Side and Passenger's Side)
· Rear Pintle Hitch & Trailer Wiring
· Hookups for Military Radio
· Original Equipment Tow Hooks & Full Military Lighting
· Full Size Matching Spare
· Professionally Serviced Regularly!
We can ship this truck to you anywhere in the lower 48 States for an average of $0.65 to $1.15 per mile depending on what part of the Country you are in.
(Feel free to e-mail me for a quote to your City, State and Zip, as we have pretty good rates from shipping a few of these all over the Country)
The trucking company will usually charge a $500 minimum, and distances over 500 miles will cost you less per mile.
It will also fit on a large Car Trailer, so you are welcome to pick it up yourself here if it will save you money.
Shipping paid for by buyer.
DIMENSIONS; 132" Long, 82" Wide, 76" Tall
WEIGHT; 6,274 lbs
DETAILS, SPECS and DOZENS OF PHOTOS BELOW
ONLY 55,680 Original Miles!!
That is so amazing that it bears repeating - only 55,680 documented original miles on this truck!!
FREE SOFT COPY OF THE OFFICIAL MILITARY MANUAL (OPERATORS, REPAIR, PARTS ETC.) INCLUDED!!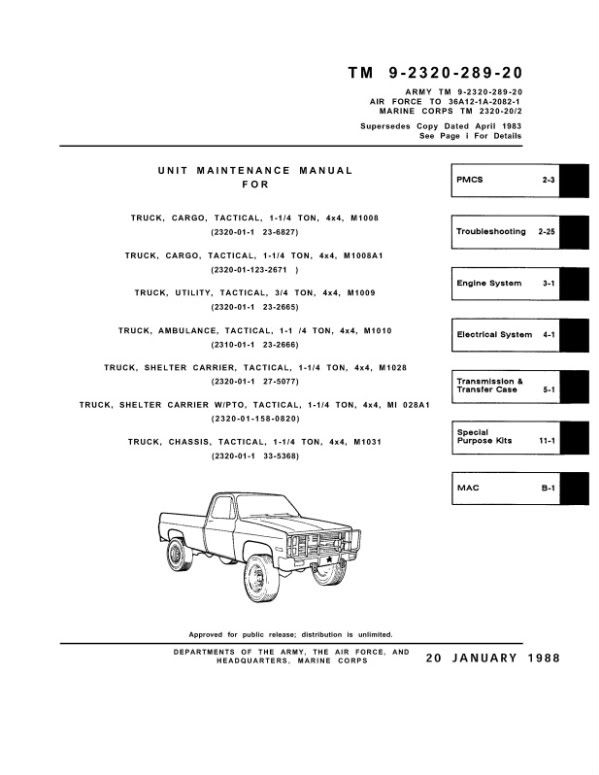 Hard Copies of all Military Manuals in Stock for purchase separately - contact us for details
Looks good from any angle;
To Help Put The Size of this Truck Into Perspective;
(Porsche Not Included in Auction;-)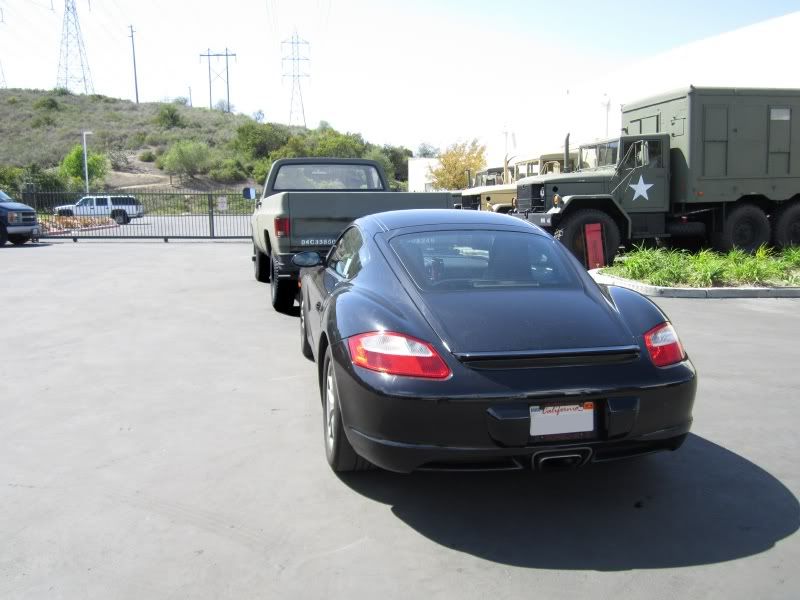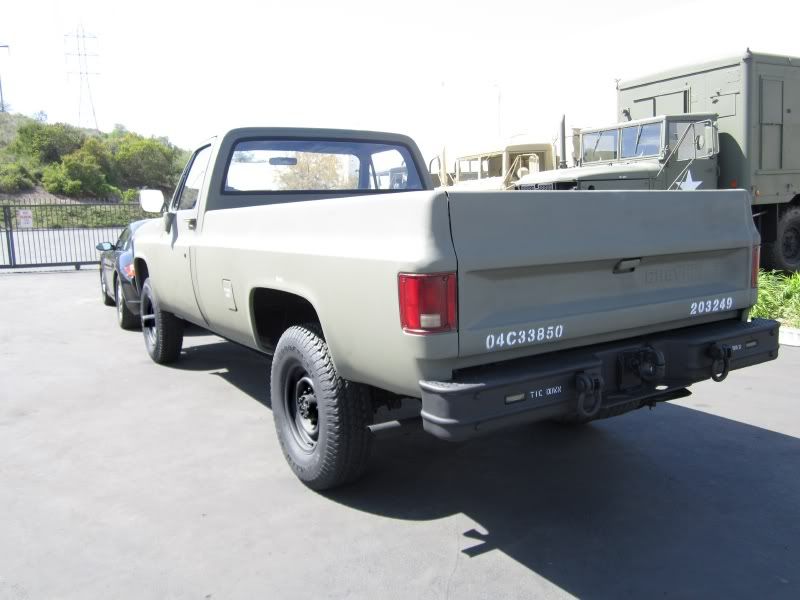 CARGO AREA IS IN GREAT SHAPE
Fully Bed Lined This Month
We also Rhino Lined the Floorboards in the cab to make sure it was easy to keep clean after a day on the trail or in the mud;

-Probably one of the most rugged, go-anywhere work or play trucks that you will find on 4 wheels!!
Will stand out at any military reunion, fair, parade, truck show, wedding, off road rally, etc. - but ready to go to work for you or drive across the Country right now!
Details, Specs & Restrictions Below
Please read entire description before you bid!
The exterior is in excellent condition and has brand new Military Olive Drab paint.
No major or minor problems mechanically, and absolutely no visible rust or rot. A couple of extremely minor dings and wrinkles (courtesy of the U.S. Army - not me;-).
Interior is in excellent condition and is 100% original military. We put a new Dash on and had the seat reupholstered, but other than that, it looks exactly like it did in the military except that we did the interior in black.
Absolutely NO major problems that we are aware of and below is a list (with picture) of the one (1) problem/missing item that we know about (and we have been completely through this truck).
Always starts right up and runs great! Everything works!!
INTERIOR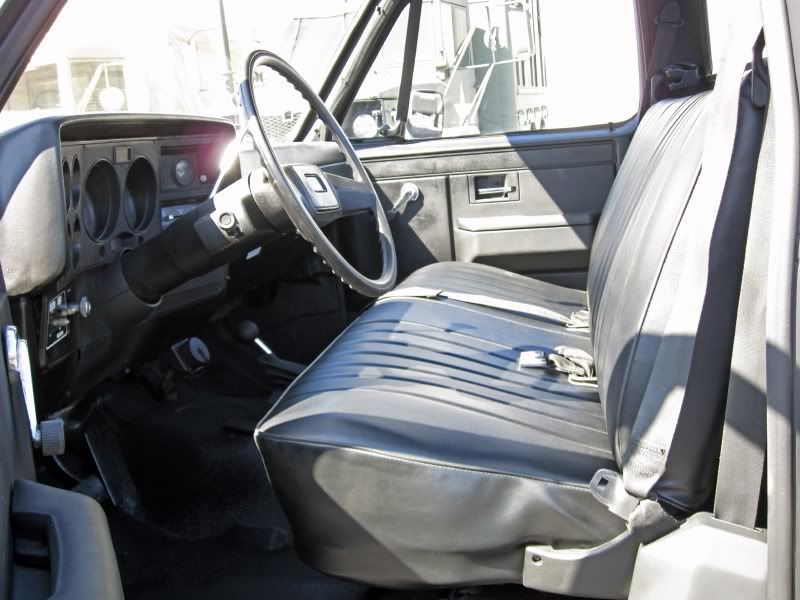 All four (4) tires and wheels are good shape, hold air and have between 75 and 90% of their tread left.
Comes with a full sized matching spare which is at probably 50% tread.
The matching spare is mounted on a matching wheel and is tucked up under the cargo bed so it will always be there if you need it.
No rust on any of the body. Doors, Jams and Floorboards are in GREAT shape!
ONE OF THE STRAIGHTEST BODIES WE HAVE SEEN ON ONE OF THESE TRUCKS!!
ENGINE
UNDERCARRIAGE
Fully Rustproofed/Undercoated
SOME MORE PICTURES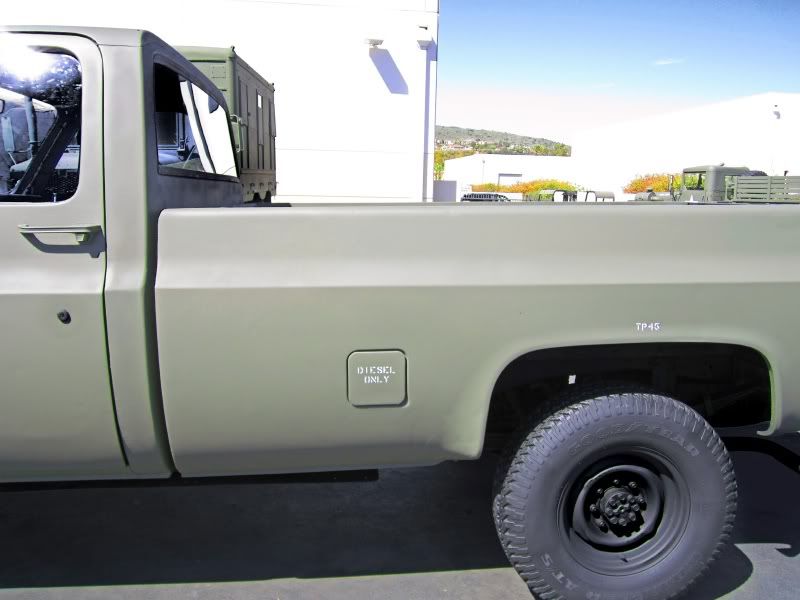 THE ONLY MINOR PROBLEM AREAS/ISSUES ON THIS ENTIRE TRUCK ARE;
1) There is some evidence of past bodywork done by the military. So there were probably dents that were fixed, which is typical of trucks that come off of military bases. Just wanted you to be aware of it, as we don't believe in adding more bondo to these trucks;
This is a couple of shots of the driver's side door showing that there is a gap between it and the front fender;
2) The tailgate handle is bent a little, but works perfectly fine - again, just wanted to point it out to you;
1) There is a quarter-sized chip in the windshield which was probably caused by the original rearview mirror getting knocked off. They just put a new mirror back on above the chip;
4) Truck is missing the factory Jack and Tire Iron. I didn't have one in stock, but you can probably find an OEM replacement on eBay - or even a good bottle jack and tire iron would do the trick and there is plenty of room for it behind the seat;
This truck is all original with no other modifications. Brakes work great and all lights work.
NOT A COUPLE OF GUYS MESSING AROUND PART TIME...
We're a professional full time shop and an approved Defense Contractor for DoD that ONLY works on Military trucks. We're also a Level III Staging Area for FEMA with a BOA on file for more than 8 years.
With 14 full time employee's, an annual operating budget in excess of $8 Million (Gross Sales of more than $54 Million in 2011 and a run rate of $57M in 2012), more than 45,000 square feet of shop space at 3 different locations, two (2) acres of secure yards at 2 separate locations and a track record of excellence since 2003 with an annual volume of more than 400 vehicles, you will not find a more capable company or a group with more specialized knowledge of these vehicles than us.
We do all work in house - with the exception of driveshafts and springs, nothing is sent out and no corners are ever cut. I drive every single truck we manufacturer after my mechanical and paint teams each sign off on it to ensure that it is perfect for you.
Here are a few pictures of our team in action on several different trucks for a glimpse into our main shop where most of the engineering and mechanical work and all of the paint is done;
Best mechanical and fabrication team in the business - more than 112 combined years of heavy-truck and diesel experience!!
~~~~~~~~~~~~~~~~~~~~~~~~~~~
AND IF YOU NEED SHIPPING SERVICES - NO ONE HAS MORE EXPERIENCE SENDING THESE TRUCKS ALL OVER THE COUNTRY THAN WE DO!!
If we can't deliver it on our truck, we will find a trucker for you with the right equipment. We can take care of all the details and arrangements for you, and we don't charge a handling fee or mark the shipping up;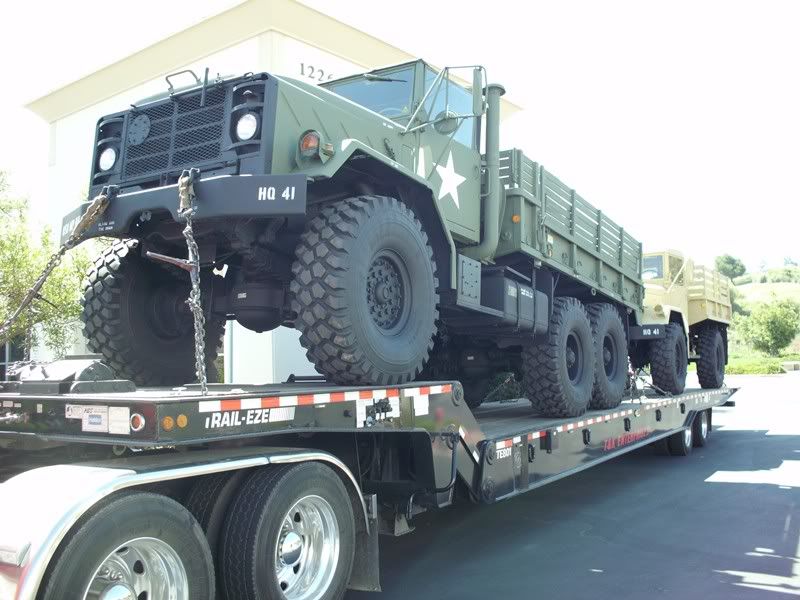 ~~~~~~~~~~~~~~~~~~~~~~~~~~~
This truck is completely done and ready to go - nothing you need to do to it at all (except enjoy a piece of history). Brakes work great and all lights work.
IMPORTANT NOTES, CONDITIONS & TERMS OF THIS AUCTION
1) We do not have this truck advertised anywhere else, so you have our word that we will not cancel this auction early to sell it for a cash offer. With NO RESERVE the highest bidder will win this truck, no exceptions.
2) Truck is Considered Demilitarized Surplus (Class Q). Cannot be shipped outside of the USA. Not for sale to non-US Citizens, no exceptions (DoD rules, not ours, sorry about that!). You must be a U.S. citizen or permanent resident of the U.S. to bid on this truck. This truck can only be bid on if the buyer intends to use this truck for personal use only and has no intention of exporting the item outside of the U.S. This is non-negotiable.
3) Truck is sold as is. Everything is in working order as described above.
4) Truck comes with a clear Arizona state title that we will be signed over into your name. We will also provide a Bill of Sale and a paid receipt upon payment. With the Bill of Sale and the Arizona title, you will be able to register this Truck in any State at your local DMV - we guarantee that.
Bid with CONFIDENCE - we are a very reputable eBay Seller with a 100% POSITIVE feedback rating, eBay I.D. Verified AND PayPal Verified with over 18,000 payments received to date, and not a single PayPal complaint or dispute
-PLUS-
We'll help in any way possible with the shipping if you need us to, and can even make the arrangements for you if you want AND we keep you informed through the entire process with confirmations when payment is received, when your truck is shipped and tracking numbers if applicable.
See our eBay Store, MREdepot

, for hundred's of disaster and emergency preparedness items and shelf stable foods.
PAYMENT: Payment by PayPal (preferred and PayPal eChecks just as welcome!), Money Order, Cashier's Check, Personal Check (allow 5 to 7+ business days to clear), American Express, Visa, Master Card & Discover Card (through PayPal).
Please see our
other items
as we have HUNDREDs of "Auction" "Buy It Now" style listings on other Military Surplus, Emergency and Disaster Preparedness and Bulk Food Storage items.

And please be sure to add us to your favorites list, as we add new items DAILY!!
Garrett Miles
General Manager
T 949.212.5778
Puerta Del Sol
San Clemente, CA 92673
Copyright 2012 MREdepot.com